2022 Calendar Competition
17th Jun 2021
Lehman Stock & Property 2022 Calendar Competition
Winners photos will appear on the 2022 Lehman Stock & Property Calendar.
Photos must demonstrate Australian Livestock & Property.
Competition Guidelines
Only digital JPEG photos will be accepted

Photos must be 3MB or Larger in size.
Please email your photos to office@lehmanstock.com.au with your Full name, contact number & description of your photo/s.
Entries close 30th September at 5PM.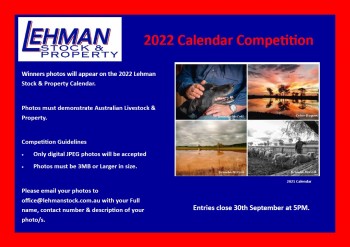 click for larger image