LPA NVD Deadlines
30th Nov 2020
LPA NVDs deadline

From 1 January 2021, only the updated versions of all NVDs (0720) will be accepted for all species.

A reminder to order NVDs now as delivery can take up to 6 weeks.

New NVD books can be ordered through the LPA service centre, using LPA log in details.

As part of the MLA Accelerated Adoption Initiative announced in November 2019, there is no cost for LPA NVD books until 30 June 2021.

For instructions on how to complete the new version (0720) NVDs, visit the ISC website.

For simple step-by-step instructions on how to use the eNVD platform, watch this video.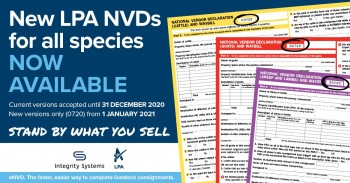 click for larger image